Alex Zlatinova, Unilink
The theme of this year's Modernising Criminal Justice Conference was promoting responsive and connected justice.
At this year's event Unilink Software was perfectly on point as we promoted our newest technology designed to improve connectedness through responsive data driven dashboards that seek to reduce suicide and self-harm in prisons.
Now that the dust has settled, we are following up the conference with demonstrations of our newest innovations.
Our live demonstration of AIM (Alert, Intervene, Monitor) application will take place on the 7th of September and is open to all public sector staff as advertised here on Eventbrite.
Want to find out a little more about this breakthrough technology …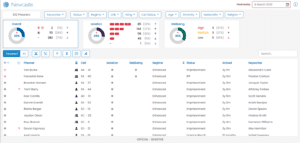 AIM – Establishment dashboard. Targeted list of people that may benefit from an intervention.
AIM stands for Alert. Intervene. Monitor. AIM is a modern web application that hooks into custodial management software like Unilink's CMS and materialises this data to help identify prisoners who might be at a higher risk of suicide or self-harm. AIM provides operational prison staff with an additional lens to consider prisoner wellbeing and safety across each establishment. It is designed to fit seamlessly alongside existing processes and help identify those in need of some additional support.
This highly innovative application, based on a successful proof of concept in Serco Prisons, is aligned to the evidence base for prison suicide and self-injurious behaviours. It analyses patterns of behaviour derived from self-service interactions such as visits, phone use, shop, work, education or other purposeful activities to flag any changes in behaviour towards isolation. The application features data driven dashboards for isolation, early days and wellbeing as well as an overall establishment dashboard to pull all of these aspects together with a targeted list of those 'at risk'. Users can pivot between aspects and drill down to an individual dashboard to see a holistic view of data and analyse the person's behaviour longitudinally across their prison stay including anniversaries or key trigger dates. Any significant changes in an individual's daily routine are identified and represented on a scale from low to high through intuitive traffic light indicators with red signalling a need for intervention.
Unilink Software is committed to helping corrections organisations drive positive social change within prisons and create more humane and enabling environments. AIM is provided free of charge to all prison operators using our CMS software. Our hope is that prisons can use our software and become safer and better places to encourage rehabilitation and recovery.
About Unilink:
Unilink, an award-winning international company established in 1994, is the leading provider of state-of-the-art integrated solutions for the Corrections, Justice, and Immigration sectors. With over two hundred staff today we are investing in a vision for the future that builds on years of experience, knowledge and expertise from specialising in these sectors. Our proven technology is at the forefront of the digital transformation journey with a rich portfolio of solutions built in close collaboration with correctional professionals and international subject matter experts. Unilink's proven solutions already implemented in an extensive customer base help prison, probation and immigration services across the world achieve their goals.
We continuously invest in enhancing our solutions portfolio to support all aspects of managing offenders in prisons and in the community and have pioneered many award-winning innovations. Unilink's unique knowledge and experience of the correctional domain along with its rich portfolio of proven solutions underpins digital transformation in prison and probation services across the UK, Europe, Australia and New Zealand. Unilink won the King's Award for International Trade in 2023.