Unilink Software, a leading provider of secure innovative software solutions for prisons, probation and immigration, has been honoured with the King's Award for International Trade in 2023. This prestigious accolade is presented to companies that demonstrate exceptional growth and achievement in overseas markets and is testament to Unilink's commitment to innovation and quality.
Unilink Software was one of only 78 companies to receive the award in 2023, following a rigorous selection process that evaluated candidates on factors including overseas sales growth, innovative strategies for international expansion, and contributions to UK exports. This award highlights Unilink Software's success in building and strengthening international relationships while driving business growth globally.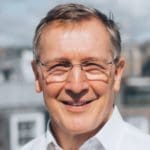 "It is a great honour to receive the King's Award for International Trade," said Francis Toye, CEO of Unilink Software. "The first from the new King.  I am immensely proud of our team's dedication and hard work in achieving this recognition, and we are truly grateful to all our customers in the UK, Europe, especially Belgium, Norway, Austria and the Netherlands, the US and Australia and our partners especially the Ministry of Justice, SPS, NIPS, Serco, G4S, Sodexo and Assa-Abloy who have supported us on this journey. This award is an affirmation of our commitment to delivering innovative and trustworthy software solutions that enable safer, more secure and potentially more rehabilitative correctional facilities around the world.  It is brilliant to have reached this level when so many things: in particular Covid and Brexit, have made international trade challenging for UK companies."
Unilink Software has developed solutions that streamline day-to-day operations in prisons and other secure facilities, providing secure communication and collaboration tools, offender and immigration management systems, and more. The company has a wide global network of partners and clients, including government agencies, non-profit organizations, private prison operators and the friends and family of prisoners. With a strong emphasis on innovation and a focus on meeting high standards of customer service, Unilink Software has become a trusted partner for justice and immigration departments worldwide.
This latest achievement marks a significant milestone for Unilink Software as it continues to expand its reach and impact on the global stage. With this recognition, the company continues to solidify its position as a key player in the software industry, delivering innovative solutions and services that enable safer and more efficient prison, immigration and probation management.